The Grade ll Arable land is situated to the South East of Wroot. It is approached via Fifties Lane from the North. Wroot lies between Doncaster to the West and Epworth to the East.
A block of level arable land with light to medium loam soils. Totalling approximately 105.61acres the land is shown on the Agricultural Land Classification Maps as being Grade 2. The Soil Survey of England and Wales shows the land is Isleham 2 Association. The geology is described as Glaciofluvial Drift and peat and the soil characteristics as deep permeable sandy and peaty soils capable of growing cereals, sugar beet, potatoes and horticultural crops.
Cropping: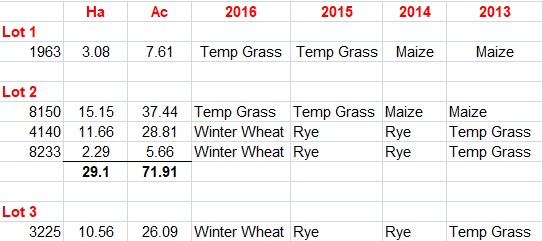 Tenantright - The successful purchasers will be required to pay for the established crops in addition to the purchase price. The figure to be determined by John H Pickup & Co LLP on a seed and labour basis.
The land is registered for Basic Payment and entitlements will be transferred to the successful purchasers free of charge. Unless otherwise agreed, this will be done before 15th May 2017 and the purchaser will make the 2017 claim.
We understand that the Internal Drainage Board drain adjacent to Idle Bank (Eastern boundary of Lot 2) is designated a SSSI.
Access to the land is from Wroot via Fifties Lane.
Wayleaves & Easements - A local distribution line crosses Lot 2. A modest wayleave is payable. Two gas mains traverse Lot 2.
Wroot Church Drain forms the Southern boundary of Lot 3, we understand this is maintained by the Internal Drainage Board. Similarly, South Idle Drain forming the Eastern boundary of Lot 2 where it adjoins Idle Bank is maintained by the Internal Drainage Board. Where the vendor has routinely maintained other boundary ditches these are marked with an inward facing "T" on the plan.
We understand that most of the land is underdrained, however the vendor does not hold any drainage plans.
The land is sold Freehold with vacant possession on completion.
A right of way is reserved to a previous owner along the Northern boundary of Lot 1, other than this, we are not aware of any footpaths crossing the land or access rights enjoyed by other parties (save for the gas and electricity board where relevant).
Timber & Sporting Rights are included in so far as owned. Mines & Minerals are included in so far as owned.
Drainage rates are payable to Hatfield Chase Internal Drainage Board, the current rate payable being approx £2.20 per acre per annum.
The land may be viewed at any reasonable time during daylight hours, with a copy of these particulars